Outsiders Come in All Different Colors.
The First Lady of NYC, Chirlane McCray, & her son, Dante DiBlasio, New York, NY.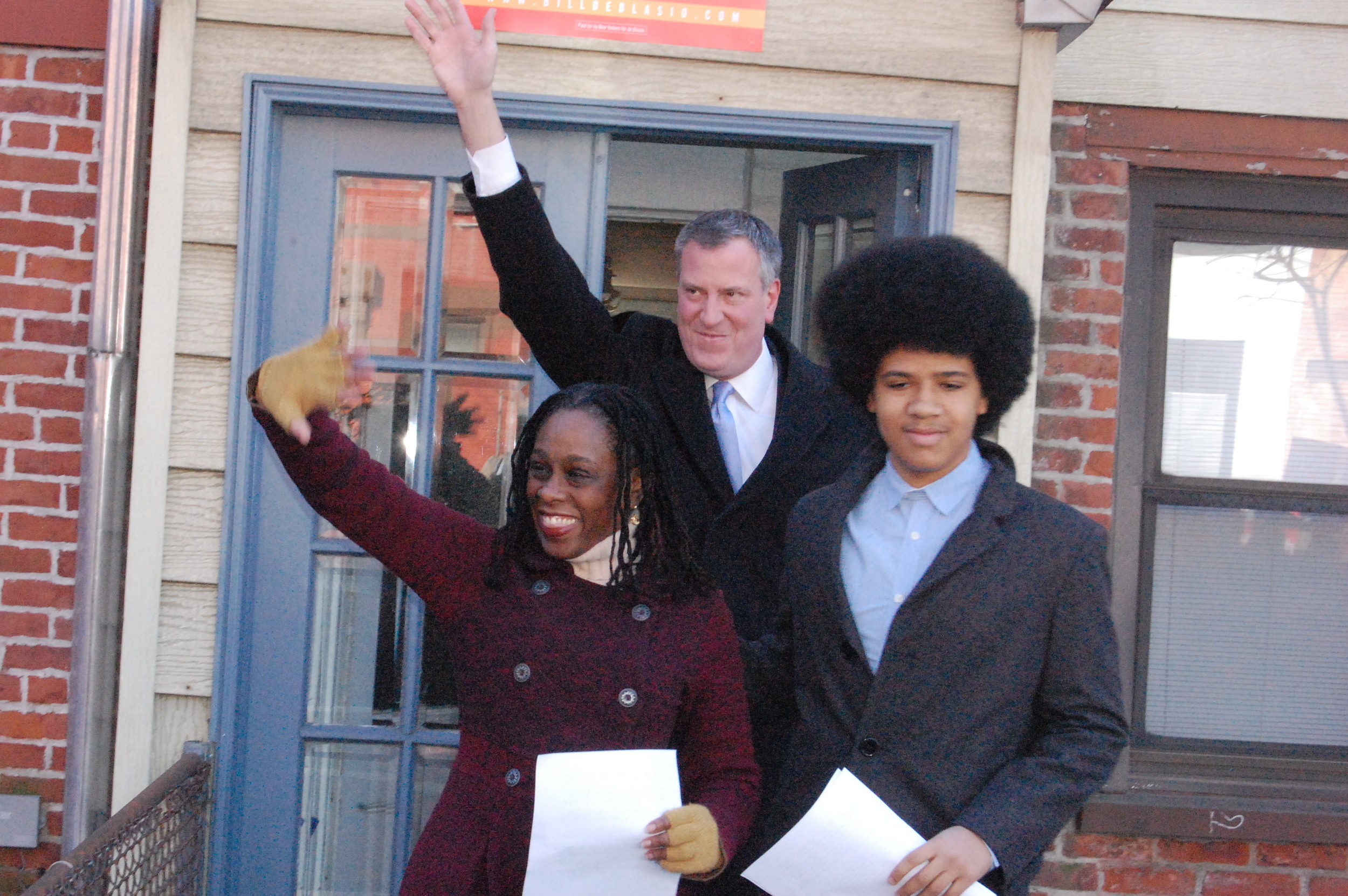 In a sense this whole project officially began one brutally hot day last August, 2013 when I was rushing down the stairs of the Nostrand Ave. train station going who knows where. As I reached the platform, earnest campaign volunteers tried their best to shove pamphlets into my hands. Having grown up in the city, ignoring these people was second nature to me. As obnoxious as it sounds, if I stopped to pay attention to every person trying to shove something into my hand I'd never make it down the street. But something made me take the piece of paper and look at it. And right there staring back at me was a family that looked like mine. Black, white and mixed. Then I quickly looked up and saw a very tall white man with a huge smile and an extraordinarily elegant black woman with an equally captivating smile warming the passengers. Someone explained that this guy, Bill DiBlasio, was a mayoral candidate. Sheer elation and shock came over me and I ran over to Chirlane and started telling her about my idea for Perfectly Mixed and insisting that her and her husband had to be the first family of NYC. After feeling out of place for so long, even the very possibility of having a family that looked like mine running the greatest city in the world was more than I could bear. You have to make this part of the campaign, your mixed family, you have to, you have to, I had no idea Bill DiBlasio's family was mixed, I kept repeating. Please please can I help in some way, any way? Bowled over by my enthusiasm, Chirlane kindly gave me her email address. So, just weeks before DiBlasio pulled ahead in the polls, I had the privilege and honor of interviewing his amazing wife Chirlane and their son Dante. Here's what they had to say.
Chirlane:
There are just so many more interracial couples portrayed these days. Back in my day it was just Captain Kirk and Uhura (Star Trek). It's also pretty common in the neighborhood we live in (Park Slope, Brooklyn). When we (Bill and I) travel out of state people do do some double takes. It totally depends on where we are. For us, diversity and safety are high on our list. We don't want our children to feel the isolation I experienced (as a child).
Do you feel like there are differences between you and Bill? How do you navigate them? Just this April Bill and I went to the African Film Festival, what other African American women would do that with me? She gently laughs. It's just not about race. Black people grow up with so many different cultures, there isn't one thing. And outsiders come in all different colors.
Where does living from your heart come from? My parents and grandparents were "outsiders," so the way they brought me up was outside the lines. They strongly encouraged me to live this way. And I couldn't conform because I was the only black child in a white neighborhood.
What advice can you offer parents of mixed children? 1. Communicate with them a lot, know what they're doing socially 2. Don't take anything for granted, don't assume everything is fine. 3. Expose them to as many cultures as possible, show them the variety in the world.
Race Doesn't Define You.
Dante Di Blasio: My identity isn't connected to race. I was convinced that I needed to conform to one extreme or the other then I realized in middle school that my identity is bigger than that. The novel Shibumi inspired me. I don't let race limit me. My mom was a strong influence in emphasizing that you can't let your race define you.